40W SOLAR HOME SYSTEM MIT LCD-BILDSCHIRM
MTO-SL207
Solar-Panel des Sonnensystems 40w Beleuchtung: 40w
Führen des Sonnensystems 40w Beleuchtung-Säure-Batterie: 26Ah "
USB-Ladekabel Häfen des Sonnensystems 40w Beleuchtung: 2pcs
AC Anschluss Solar 40w Beleuchtung Ladesystem: Ja
LED-Leuchten: 6pcs * 3w superhelle led-leuchten
Leuchtdauer: ca. 12 Stunden
Sie ist anwendbar auf Wohnungen, Schulen, Hotels, Bauernhöfe, Konstruktionen und internationale Hilfsprojekte.
Feature
LCD Screen Advantages:
* Calendar: Display Date and Time
* Display Input Voltage and Current
* Over Current Protection (OCP)
* Short Circuit Protection (SCP)
* Power Status of battery, you will know it is fully or under charging
* Working status: Such as charging, power status
* Warning: Reminding you to charge the battery
* Smart Auto Detection for current of charging appliance such as mobile
* Home lighting
* Mobile/MP3/MP4 charger
* Plug and play system
DC Fan
12v10w 16" (not include)
DC TV
12v20w 15" (not include)
Solar Panel
1pc 18V40W polycrystalline panel+ 5m cable
SMF lead Acid Battery
1pc 12V26Ah rechargeable
Lamp
2pcs LED 3W lamp + 5m cable of each bulb
USB port:
2pcs 5V output for mobile, MP3,MP4, digital camera charging
Indicator
LEDs 25%, 50%, 75%, 100%
Fully charging time
About 8 hours
Working time
2pcs bulb+fan+TV: 6 hours; 4pcs bulbs+fan+TV: 5 hours
Size
Elec. box: 249*227*138mm
Panel: 685*515*30mm
Weight/ctn
(Power box) N/W: 19kgs, G/W: 23KG; (solar panel)N/W: 19KGS, G/W: 22.05KG
Packaging
2pcs/ctn(power box); 5pcs/ctn( solar panel)
carton size for power box: 490*290*415mm
Carton size for solar panel:665*210*565mm
20ft container loading: 618 pcs
40ft container loading: 1280 pcs
Bilder von Solar 40w Beleuchtungssystem: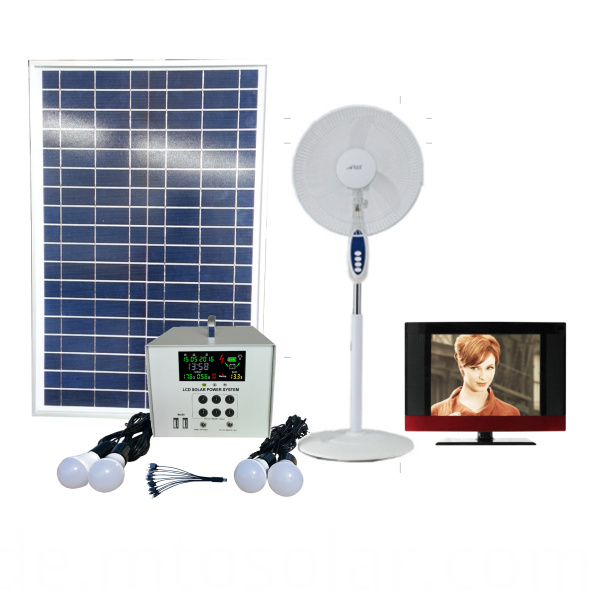 Funktionen und Vorteile des Sonnensystems 40w Beleuchtung:
AC oder Solar-Panel laden Stecker zum Aufladen von Handys, MP3-Ets.
Sicherheit und einfache Installation, Plug & Play-Systeme;
Gute Qualität-Panel, hohe Effizienz und lange Lebensdauer gewährleisten muss;
Solar automatische Lichtsteuerung: mit verstellbaren Laufzeiten, Überstromschutz;
hocheffiziente LED-chip
Superhelles Hight Lumen heraus setzen
umweltfreundlich
Standard-Glühbirne
Hängende Haken für Beleuchtung, kohlenstoffarmen Licht
Flexible entwirft pro Client-Anfragen;
Lichtanwendungen System Solar 40w
Home-Beleuchtung, bewegliche Beleuchtung, tragbare solar Licht
Stecker zum Aufladen von Handys, MP3-ets
Architekturbeleuchtung
Artwork-Beleuchtung
Es ist sehr gut für den Innenbereich wo es Mangel an Elektrizität und für outdoor-Aktivitäten wie Picknick, Angeln und camping.
Konditionen:

-Handel Begriffe: FOB Shenzhen
-Vorlaufzeit: 25 Tage
-Zahlungsbedingung: T/T 30 % Anzahlung, T/T 70 % die Waage vor der Auslieferung
-Garantie: 1 Jahr für die Batterie, 2 Jahre für LED-Lampe, 5 Jahre für Solar-Panel
-Das obige Zitat ist innerhalb eines Monats gültig
Versandkosten für Solaranlage 40w Beleuchtung:
Per Express oder auf dem Luftweg ist müssen nur ca. 3-6 Tage zu weltweit. Für den sicheren Versand weltweit mach dir keine Sorgen Sie über Paket Schädiger oder Verlust. Es dauert ungefähr 20 ~ 45 Tage, um weltweit.
Bitte beachten Sie, uns Ihre Kontaktdaten Ihre Telefonnummer anzugeben, für die einfache Kontaktaufnahme von Versand-Prokurist.
Relevante Bilder des Sonnensystems 40w Beleuchtung:
Solar 40w Beleuchtungssystem von MTOSOLAR geliefert
Produktgruppe : Solar-Beleuchtung-System mit LCD-Bildschirm