20W Mini Solaranlage mit UKW-Radio
MTO-SL210FM
1. Produktbeschreibung des 20w Mini Solar Power System mit Fm-Radio:
| | |
| --- | --- |
| Remote control | Radio remote Controller |
| Solar Panel of 20w Mini Solar Power System with Fm Radio | 1pc 18V10W polycrystalline panel+ 5m cable |
| SMF lead Acid Battery | 1pc 12V7Ah rechargeable |
| Lamp | 2pcs LED 3W lamp + 5m cable of each bulb |
| USB port: | 1pc 5V output for mobile, MP3,MP4, digital camera charging |
| Indicator | LEDs 25%, 50%, 75%, 100% |
| Fully charging time | About 9 hours |
| Lighting time | 2pcs bulb: 10 hours; 4pcs bulbs: 5 hours |
| Accessories | USB cable 1+10 |
| Size | Elec. box: 196*95*117mm Panel: 340*285*15mm |
| Weight/ctn | N/W:24.00kg G/W:29kg |
2. Merkmale der 20w Mini Solaranlage mit Fm-Radio:
* Öko-freundliches Produkt
* Super energiesparende led-leuchten
* Rechnung sparen Designprodukt
* Home Beleuchtung, camping-Beleuchtung, Notbeleuchtung, Außenbeleuchtung Aktivitäten
* Radio/Bluetooth/Kopfhörer/TF-Karte/U-flash-Disk
* Betriebsanzeige für die Erinnerung macht blieb
* Zwei Arten von Solar-Panel oder AC-Adapter aufladen
3. Bilder zeigen von 20w Mini Solar Power System mit Fm-Radio: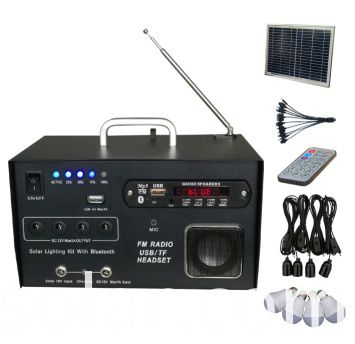 4. Verpackung und Versand:
Packing

4 pcs/ctn

carton size:720*355*428mm

20ft container loading: 255 cartons(1020 pcs)

40ft container loading: 530 cartons(2120 pcs)
5. unser Service:
1. Schnellantwort, alle Ihre Fragen innerhalb von 24 Stunden beantwortet werden. Unser Motto lautet: "Qualität zuerst, Kunde alles". 
2. jede Ihr maßgeschneidertes Konzept können wir Ihnen zu entwerfen und ins Produkt.
3. Probe bestellen in kleinen Mengen ist akzeptabel.
4. Wir haben professionelles Verkaufsteam, die nicht nur eine antwortende, sondern auch Problemlöser ist, geben wir immer Kunden die machbarste marketing Vorschläge entsprechend ihren eigenen Markt Modus.
5. jedes Modell der Produkte wird durch strenge Management Herstellungsverfahren, um die Qualität des Produktes zu gewährleisten.
6. haben wir auch unsere professionelle QC-Abteilung, nehmen wir die Proben wieder vor dem Versand überprüfen, versuchen unser Bestes, um das Verhältnis von Steuern niedrigsten ablehnen.
6. Informationen zum Unternehmen:
Mindtech ist ein Hersteller von Solaranlagen, solar-Laternen, solar-Ladegerät, LED-Leuchtmittel Lampen, led Downlights, Led Streifen, Led Röhren, led Strahler, led Flutlicht und led-Taschenlampen in China, die seit Jahren in diesem Bereich haben. Unsere Produkte haben CE, RoHs, Fcc Zertifikate erreicht.
Unsere Firma Mindtech optoelektronische Limited verfügen über professionelles Forschungs- und Entwicklungsteam von mehr als 5 Mitarbeitern unter der Leitung von senior Ingenieure ist. Und wir befinden uns Donglian Industrial Zone, Kengzi Road, Pingshan New District, Shenzhen, basierend auf die hervorragende geographische Lage, wir denken für unsere Kunden mehr.
Wir bieten Produkte von hoher Qualität und günstigen Preisen für unsere geschätzten Partner, eine gute Zusammenarbeit mit Ihnen in naher Zukunft bereit!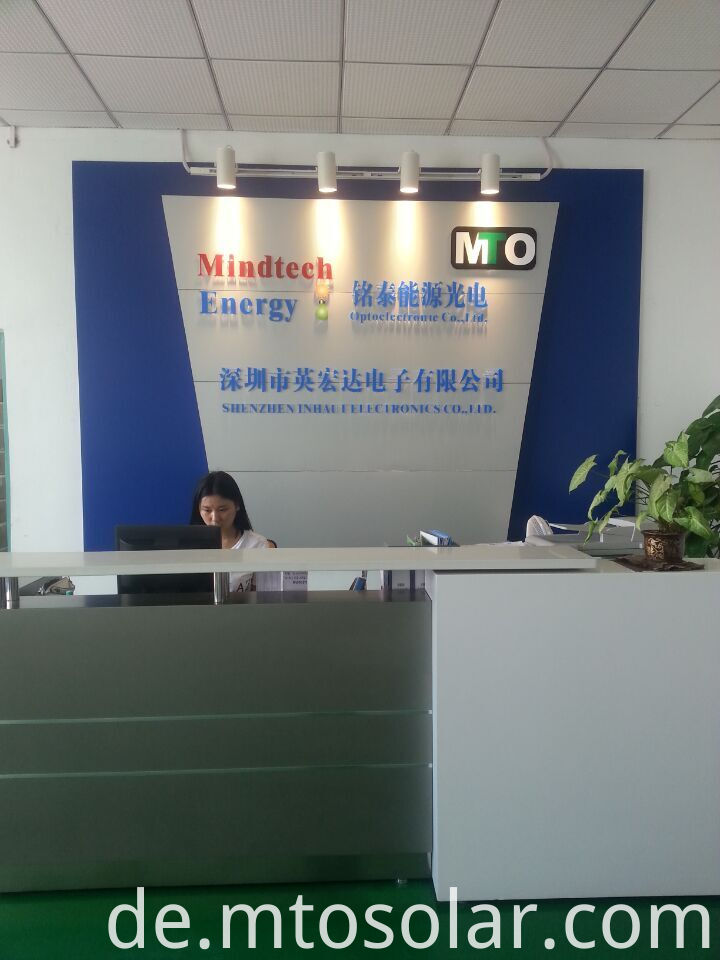 Produktgruppe : Solar-Beleuchtung-System mit FM-Radio