Solar Led Power-Beleuchtung-Generator-System
Produktbeschreibung Led Beleuchtung Generator Solarstromanlage
MTO-SL219
1. Spezifikation des Solar Led Power-Beleuchtung-Generator-System:
Advantages
Home system to supply power to light, fan, TV etc
Solar Panel
18V/60W mono/polycrystalline with 5m cable
SMF lead acid battery
rechargeable 12V, 40Ah
Lamp
6pcs 3W SMD LED lamp
USB port:
yes, for charging mobile phones, mp3,mp4 etc
ON/OFF switch
yes
DC Fan
10w 16" not attached
DC TV
14" not attached
Fully charging time
About 8 hours
Lighting time
Only load 4pcs 3W LED lamp: more than 30 hrs lighting time;
Load 4pcs 3W LED lamp, 10W DC standing fan and 20W DC TV, 7 hrs working time.
Accessaries
USB rechargebable cable,Nokia small tip,Samsung D800,Moto V3,Sonny Ericcson tip
Packing
1pc/ctn
Carton size(Power box)
400*266*320mm
Carton size(Solar panel)
1000*570*50mm
GW/set
30kgs
20GP/40GP
414sets/888sets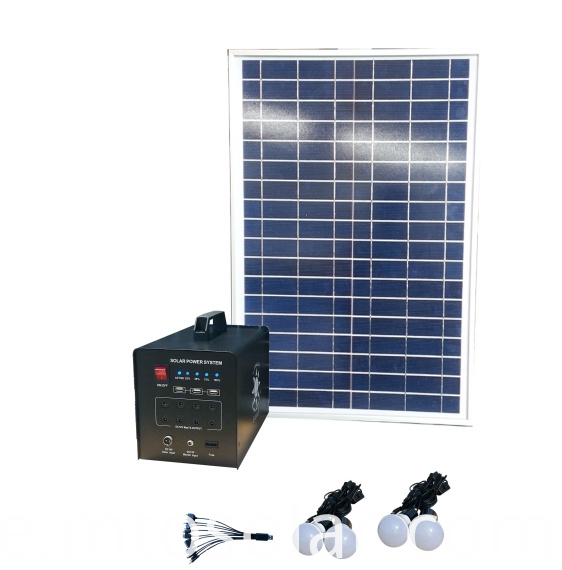 2. Bill Designprodukt speichern
3. kein Leistungsbereich, Wüste, Inseln, Notlicht, home Licht, Eco freundliche Licht
(4) Märkten wie Nordamerika, Südamerika, Afrika, Europa, Inseln Länder, Asien

Solar Beleuchtung der Led Beleuchtung Generator Solarstromanlage:
SSolar home-Licht-System Kit beinhaltet Solarzelle Module, Solar Batterie, solar-Controller, LED-Lampen und USB-Ladekabel. Es ist ein System, das besondere entworfen ist, um Kunden Nachfrage von Strom, wenn sie, camping gehen oder gibt es kein Licht. Es kann auf alle Bereiche angewendet werden, dass Strom knapp ist. Verwenden Sie sehr weit verbreitet. Es kann kostenlos für Handys, Licht, MP3- und anderen DC Produkte laden.
Ist speziell für Afrika-Markt und den Ländern der dritten Welt, wo viel Sonne, aber Sperre der Elektrizität ist.
System-Kit die herkömmliche Beleuchtung ersetzen könnte.
Funktionen und Vorteile der Led Beleuchtung Generator Solarstromanlage:
AC oder Solar-Panel laden Stecker zum Aufladen von Handys, MP3-Ets.
Sicherheit und einfache Installation, Plug & Play-Systeme;
Gute Qualität-Panel, hohe Effizienz und lange Lebensdauer gewährleisten muss;
Solar automatische Lichtsteuerung: mit verstellbaren Laufzeiten, Überstromschutz;
hocheffiziente LED-chip
Superhelles Hight Lumen heraus setzen
umweltfreundlich
Standard-Glühbirne
Hängende Haken für Beleuchtung, kohlenstoffarmen Licht
Flexible entwirft pro Client-Anfragen;
Anwendungen
Home-Beleuchtung, bewegliche Beleuchtung, tragbare solar Licht
Stecker zum Aufladen von Handys, MP3-ets
Architekturbeleuchtung
Artwork-Beleuchtung
Es ist sehr gut für den Innenbereich wo es Mangel an Elektrizität und für outdoor-Aktivitäten wie Picknick, Angeln und camping.
Bedingungen und Konditionen:
-Begriffe: FOB Shenzhen Handel
-Vorbereitungs-und Anlaufzeit: 25 Tage
-Zahlungsbedingung: T/T 30 % Anzahlung, T/T 70 % die Waage vor der Auslieferung
-Garantie: 1 Jahr für die Batterie, 2 Jahre für LED-Lampe, 5 Jahre für Solarpanel
-Das obige Zitat ist innerhalb eines Monats gültig
Produktgruppe : Solar Dc-Beleuchtungs-Systeme